It is shocking to learn that more than 28 percent of Palm Beach County residents who are 60 or older suffer from food insecurity, lacking the resources to consistently access healthy food. This includes seniors who live slightly above the federal poverty level and who, according to the Hunger Relief Plan, Palm Beach County 2015, therefore are not eligible for Federal or State nutrition benefits.
Hunger Takes Its Toll
Seniors who are food insecure have higher rates of chronic conditions and utilize of healthcare services more than those who have adequate food. They are 78% more likely to experience depression, 50% more likely to be diabetic, and 14% more likely to have high blood pressure. Nearly 60% are more likely to have congestive heart failure or a heart attack, and twice as likely to have asthma than seniors who have a consistent diet of adequate, healthy food.
With the help of our committed, passionate volunteers, MorseLife Meals-On-Wheels provides a necessary solution, serving 50,000 kosher meals to approximately 2,500 low income, homebound seniors in Palm Beach County each year, without regard to a client's ability to pay.
Fulfilling a Sacred Responsibility
The Torah and Jewish tradition remind us repeatedly of our obligation to feed the hungry. ​The Talmud explains that each Jewish community must establish a public fund to provide food for the hungry and tells us that feeding the hungry is one of our most important responsibilities. Fulfilling our mission as a lifeline to seniors, MorseLife Meals-On-Wheels helps assure that the elders in our community do not suffer from inadequate access to healthy food.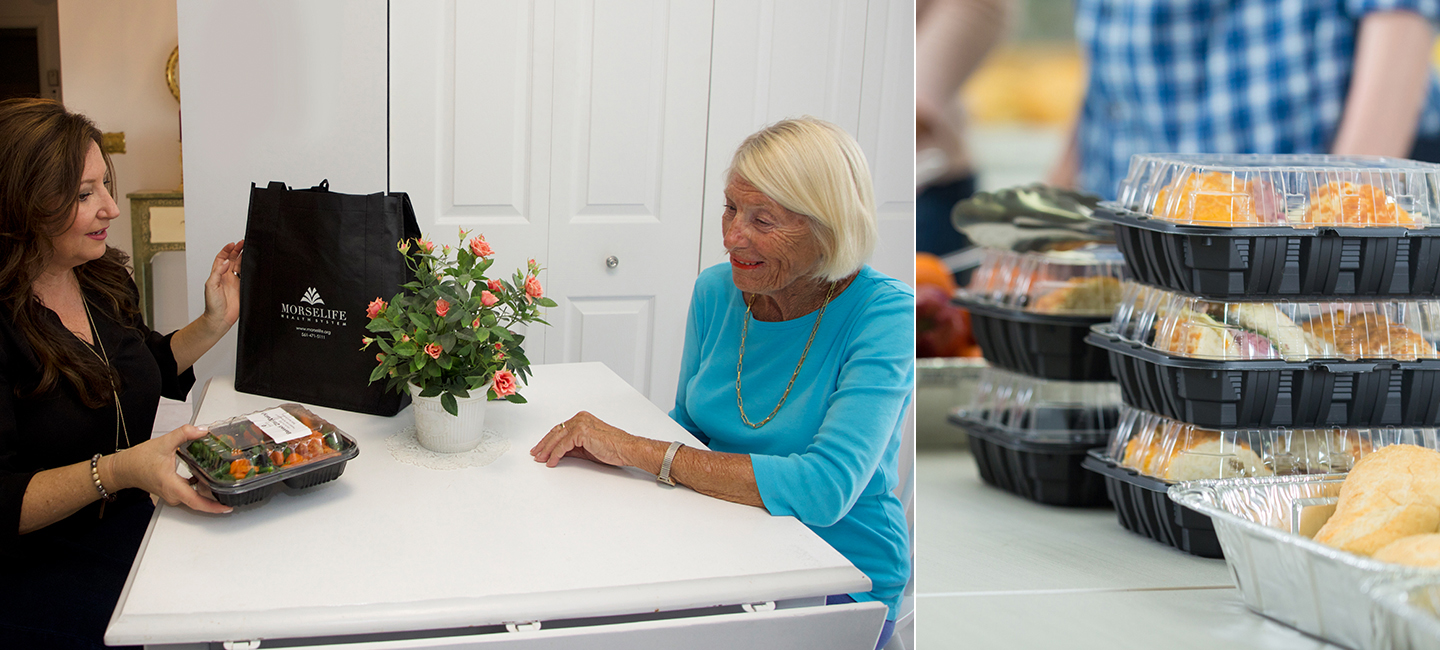 Case Study: Managing Life's Unexpected Challenges
In 1995 Joel Cohen retired from his job of 45 years as a NYC school teacher. He and his wife, Rita, moved to Florida to enjoy their retirement years, purchasing a condo in Century Village and planning to live the good life on Joel's pension and social security. That plan worked well for many years until Rita took ill and incurred substantial hospital and physician bills. They were not destitute, but they were rightfully concerned that they would not have enough money to pay their bills, purchase medicine and eat healthfully. The Cohens turned to MorseLife's Meals-on-Wheels program for help.
Meals-on-Wheels clients like Joel and Rita tell us that they make difficult decisions each week, sometimes choosing between paying for their prescriptions or buying fresh fruits and vegetables. In keeping with the MorseLife mission, seniors should not suffer these difficult choices after working hard their whole lives. Unlike many other organizations, MorseLife has never placed a client on a waiting list for a meal and everyone in need is served, regardless of their ability to pay.
Currently MorseLife is able to serve, on average, three meals to thousands of seniors each week, yet this is not enough. The goal is to serve five meals each week, thereby providing one nutritious meal each weekday for every client that MorseLife serves. Meals-On-Wheels is only possible with significant funding from our donors, making its success dependent on your generosity.
How many indigent seniors can you help by providing life-sustaining meals every week?
$35 = one senior, one week
$140 = one senior, one month
$1,680 = one senior, one year
As we fulfill this sacred obligation to feed the hungry and as the numbers of those in need continues to grow, we turn to our generous donors for help with sustaining our Meals-on-Wheels program. Please help today!
To find out how you can help, please call (561) 209-6103.
To Make An
Online Donation
To Learn More
About Our Events
To Find Out How
You Can Help