MorseLife is committed to ensuring that older adults enjoy full, rewarding lives in an atmosphere of comfort and compassionate care. Honoring our mission as a lifeline for seniors over 38 years, we continually seek new ways for older adults to live meaningfully through our innovative Life Enhancement initiatives.
Exploring New Approaches
Life Enhancement includes various enriching approaches, from augmented reality (AR), music and memory to innovative art and cooking programs designed to enhance ailing seniors' minds and bodies.
MorseLife is always on the lookout for meaningful new ways to improve the lives and wellness of seniors in our care. For example, recognizing the positive role that pets play in the lives of many seniors, plans are now underway to introduce pet therapy on our campus. We hope that our pet-loving residents will experience a new dimension of joy with their furry friends nearby.
Providing Free or Subsidized Services to Thousands
MorseLife Foundation helps fund these innovative programs, enabling MorseLife to touch the lives of 3,600 Palm Beach County seniors each day with up to $10 million in free or subsidized services annually. From basic needs such as nutritious meals, health care, transportation, and companionship, to creative approaches utilizing the arts and technology, MorseLife Foundation constantly explores new possibilities to enhance the lives of all seniors in our care.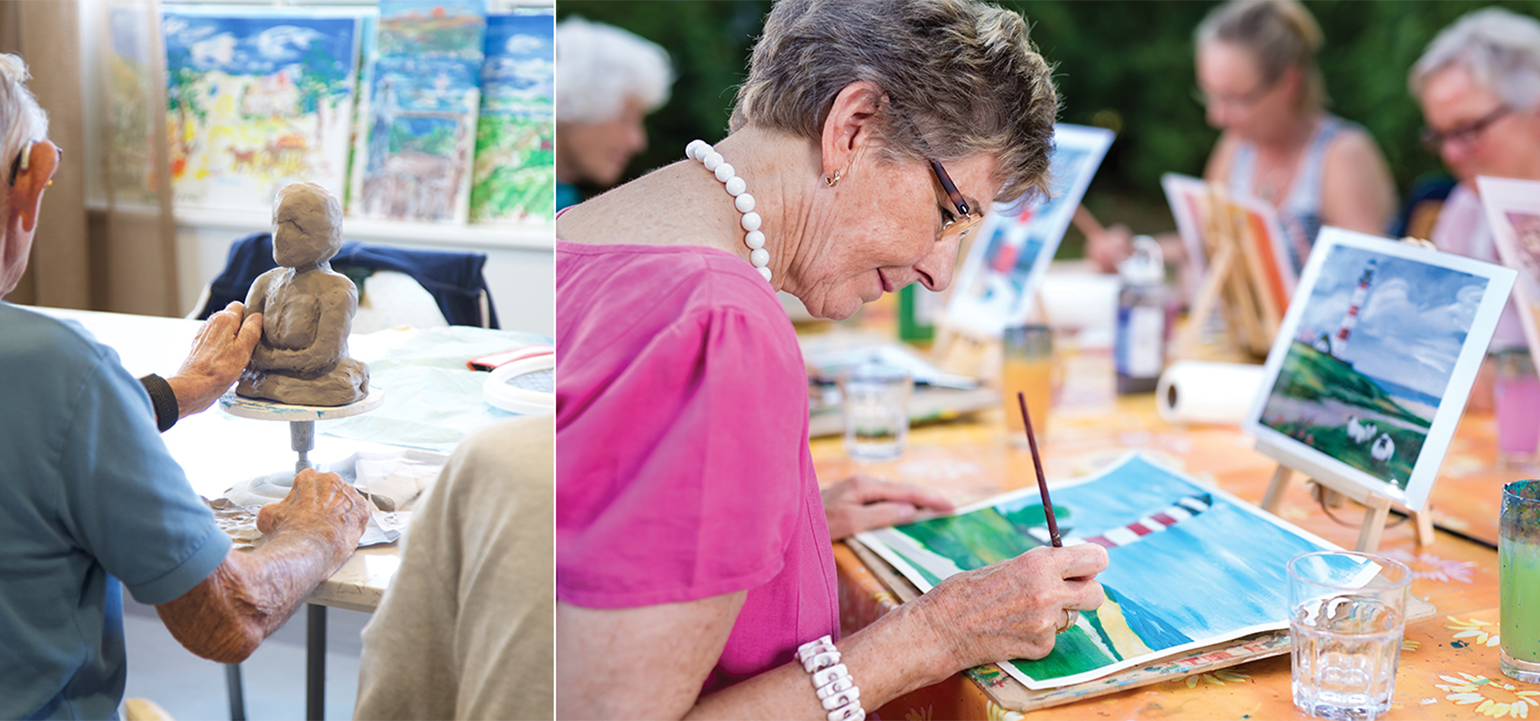 Case Study: Awakening Memories Brings Joy
Ruth Kaplan arrived at MorseLife one year ago with a diagnosis of late-stage Alzheimer's disease. Before the illness, Ruth was a talented cook at home, preparing traditional Jewish meals for her family. She was also classically trained in piano at the Berkeley College of Music in Boston, Massachusetts. Now, many years later, the disease has taken away her ability to cook and to play music,
erasing her identity piece by piece.
Ruth's mind has now awakened, thanks to the Life Enhancement initiative at MorseLife. This unique program reaches beyond medical needs and touches the human spirit. Activities spark memories and create moments of joy for seniors with memory impairment. Our program is interactive, engaging, and nurturing, encouraging seniors to touch, taste, feel, participate, and build on the talents and abilities they possessed in their younger years. For example, listening to a volunteer play the piano in the community dining room, Ruth is transported back to an era of pleasant emotions, helping to reduce the persistent anxiety that is part of Alzheimer's disease.
Our program has demonstrated that seniors with memory impairment learn through sensory-based activities that touch their emotions. Unlike memories, feelings remain intact during the course of Alzheimer's. Therefore, our care providers tap into existing emotions to stimulate the person's remaining abilities.
The Life Enhancement program at MorseLife is possible only with significant funding from our generous donors. Each year, we can positively impact the lives of more than 1,500 seniors through this initiative, but the need continues to grow.
These services are not reimbursable through traditional insurance or Medicare and Medicaid. Please consider supporting this impactful program so that Ruth and others can benefit from enlightened care.
CONTACT US
"*" indicates required fields