MorseLife Hospice & Palliative Care is the only hospice in Palm Beach County offered by an organization with a
history of specializing in serving the Jewish community. It is also the only organization designated by the Florida legislature as a Teaching Nursing Home and a Teaching Hospice.
A Tradition of Caring
Hospice & Palliative care philosophies are logical and necessary extensions of MorseLife's mission as a not-for-profit organization to enhance seniors' lives with compassion, dignity, and respect while providing access to the medical care they require. Both philosophies focus on reducing suffering and respecting the patient's quality of life.
As such, they align with Jewish views regarding the right of individuals to make crucial decisions about their care and whether continued treatment of a terminal illness is in their best interest.
Engaging the Mind, Spirit & Soul
Offering spiritual care to all faiths with a staff specifically and comprehensively trained to understand patient needs and respect their choices. Palliative and hospice care at MorseLife impact how patients and their families experience illness and the end-of-life journey in positive, meaningful ways.
The goal of palliative care is to alleviate discomfort and help people of any age with serious illnesses feel better. In addition to preventing or treating symptoms of illness and side effects of treatment, palliative care also treats emotional and spiritual challenges, thus improving the quality of life for the patient, the family and caregivers.
Both palliative care and hospice care provide comfort, but palliative care can begin at diagnosis and continue throughout treatment. Palliative Care may address the many possible effects of illness, including nutritional guidance, various approaches for managing pain, sleeplessness, and other discomforts, physical therapy, counseling, and other support services for patients and caregivers.
Hospice care can be offered at Home or in a nursing home, hospital, or hospice center and is designed for the last six months of life. It is provided holistically by a team of medical professionals, spiritual or religious advisors, family and volunteers who offer respite to caregivers.
The Continuum of Care
From a health care perspective, hospice fulfills a need in treating the progression of terminal illness, which is why MorseLife Health System added hospice care to the services it provides, going above and beyond what is customarily available. Hospice services are typically provided through Medicare Hospice Benefits and/or private insurers.
MorseLife Health System has announced plans to build a hospice center of care to meet the needs of patients and their families with the same high standards as all other MorseLife health care facilities. We hope you will support us generously as we transform this vision for our community into reality.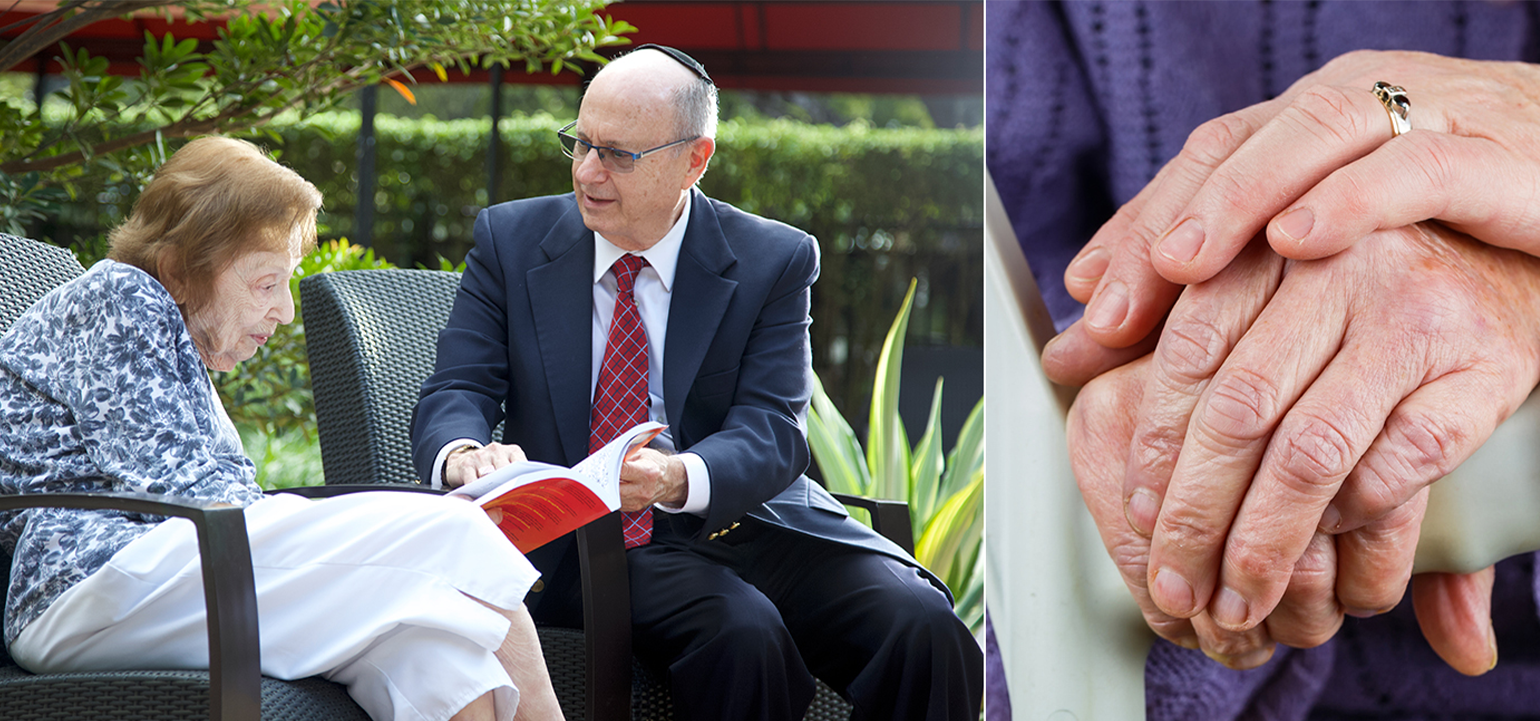 Case Study: Comfort and Caring Help Loving Couple Cope
Don and Ethel were married nearly 55 years when they learned the terrible news that Don had pancreatic cancer. Though they understood the seriousness of the diagnosis, they remained optimistic that Don would be one of the lucky few who survived beyond two years. Don was placed on an aggressive protocol, but 13 months into treatment, they learned cancer had spread, and the
prognosis was not good.
They reviewed the options available and decided to arrange for hospice care for the remainder of Don's life, allowing him to remain in their Home. Although they were not religious in the traditional sense, they wanted a hospice that had a "Jewish feel," as they described it. They chose MorseLife Hospice & Palliative Care because of MorseLife's 36-year history of providing the highest quality of care for seniors in a Jewish environment, as well as the highly customized array of services available to patients and their families.
CONTACT US
"*" indicates required fields