Maestro and composer Leonard Bernstein said it best: "Music can name the unnamable and communicate the unknowable."
Bringing music and dance into the daily routine of MorseLife Memory Care residents goes a long way in bringing light to their lives. The Alzheimer' Project (TAP), a ballroom dancing program developed by an award-winning dancer specifically for those with limited mobility, uses music and dance to ignite memory and improve movement. This innovative program also is an opportunity for spouses, children, family members and friends to connect with their loved ones.
Research Unveils the Power of Music
The concept for TAP was developed twelve years ago by ballroom dancer Judith Simon who began working in the field at New York's Institute for Music and Neurologic Function, established by renowned author and neurologist Oliver Sacks, MD and music therapist Concetta M. Tomaino. Encouraged by the program's positive results, Simon launched a study on the benefits of ballroom dancing to slow the progression of Alzheimer's, which is being conducted in partnership with Dr. James Galvin, the founding director of Florida Atlantic University's Comprehensive Center for Brain Health.
"My dance classes visibly uplift MorseLife residents and spark energy," said Simon. "Nonverbal communication like touch allows patients to relax and follow their partners' lead. Even staff have found that they can connect with patients in gratifying new ways."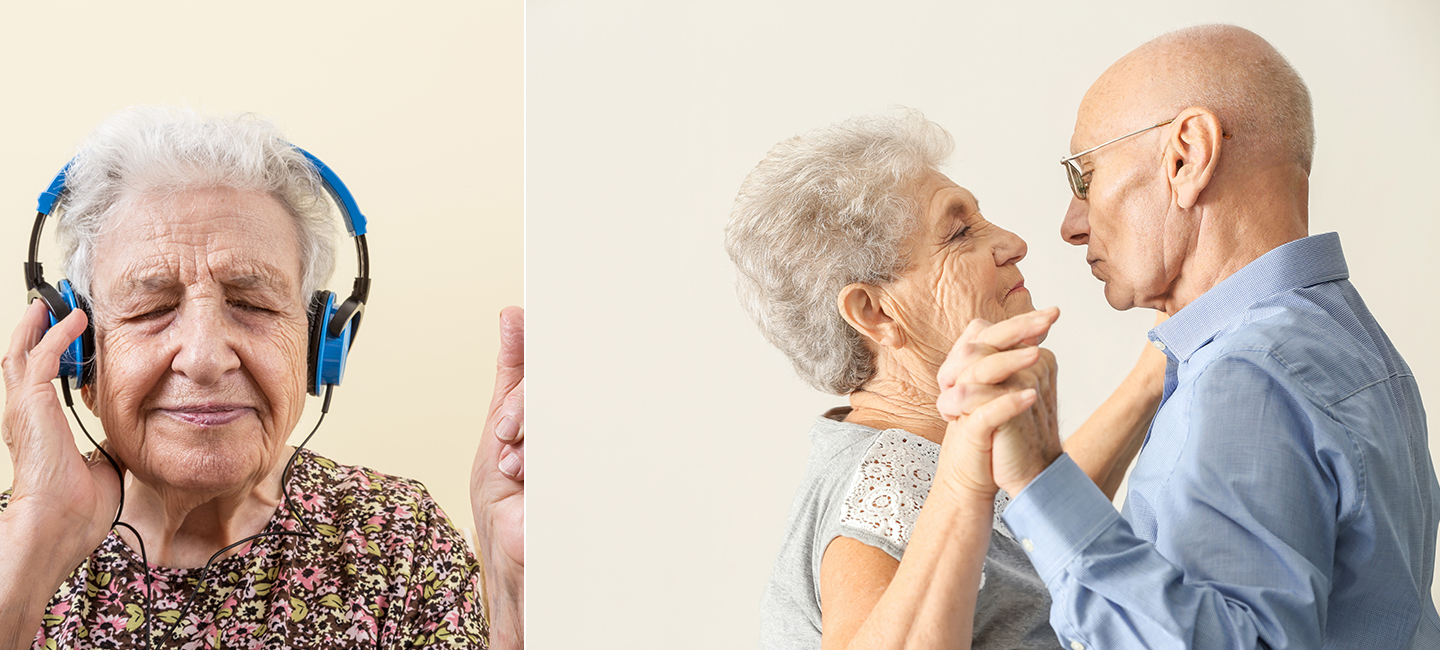 MorseLife is More Life
In addition to ballroom dancing, MorseLife's Memory Care program offers More Life by incorporating Mind and Body programs into the monthly schedule, offering more opportunities to transform lives through playing musical instruments, singing and painting.
The Foundation plays an essential role in bringing more life to seniors by raising funds for exciting new therapies and helping MorseLife stay on the leading edge of health care for the elderly.
"There is still a lot of life left in people with memory-related illness," said Simon. "It's just a matter of finding new paths to reach them."
Case Study
Jack Rosenberg, age 92, was in late stage dementia, living alone at home with a home health aide who would come to check on him every day. He had limited verbal abilities, and his family, whom he inconsistently recognized lived far away. He was happy to see his aide; however, he had to adjust to her entering his apartment each day, as he did not recognize her and would have to re-acclimate to her being there every day. This caused him agitation and visibly emotional anxiety that would become heightened at random times throughout the day.
Exciting New Options
Rather than medicating him to calm him down, which would also take time to go through his system, MorseLife's Music & Memory specialists spent time speaking with Jack's family about his life, his interests, his passions and his time in the US Airforce during World War II.
Based on the family's feedback, the Music & Memory Specialists put together a detailed, personalized playlist of Jack's songs from his childhood, teenage years and adulthood and loaded it onto a MorseLife iPod. These songs sparked Jack's attention when the music filled the room.
Just as crying infants calm down when they hear their parents' voices, the music eased Jack's distress. He began humming along and singing the lyrics, smiling and swaying his body in his wheelchair. He tapped his fingers and toes and made eye contact with the home health aide, as if to say, "Come dance with me."
When it was time to go to bed, Jack fell asleep peacefully. Music has continued to enhance his life, help his aide care for him and make his family' visits far more pleasant than they used to be.
To Make An
Online Donation
To Learn More
About Our Events
To Find Out How
You Can Help